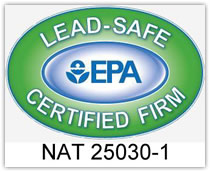 A Lead-Safe Certified Firm
The Environmental Protection Agency (EPA) passed a new law that became effective on April 22, 2010. The law is designed to protect homeowners, their families and contractors that work on their home from the risks of lead hazards.The use of lead based paint was discontinued after 1977 but if your home was built before 1978 it is very likely that it contains lead based paint. Home remodeling projects typically have sanding, cutting and demolition of existing parts of your home. Any of these construction activities can create a health risk for your family by disturbing lead-based paints.
Harbour Towne Construction, Inc. is Certified and in Compliance with the Required Lead Safe Work Practices.
"As a past President and Board Member of the Atlanta chapter of the National Association of the Remodeling Industry, I support this law that helps protect homeowners and their families from this risk. "
Lead based paint can cause some very nasty health issues.
My company was one of the first home remodeling contractors in the Atlanta area to be certified under the new law. Unfortunately, some remodeling contractors are still not certified. The best advice can give you it to cross them off of your list. If you do hire them you could be exposing your family and your children to lead poisoning. Take the simple step of asking for proof of their certification before you meet with them. All home remodeling companies play an important role in helping to prevent lead exposure. By following lead-safe work practices, certified contractors can prevent hazardous lead exposure. After April 22, 2010 the new laws became effective. Federal law requires painting and other contractors to be certified and to use lead-safe work practices. To become certified, renovation contractors must submit an application and fee payment to EPA. The full context of the law can be viewed at http://epa.gov/lead/pubs/renovation.htm
The following is a brief excerpt from the new regulations.
Who Must Follow the 2008 Lead Rule's Requirements?
In general, anyone who is paid to perform work that disturbs paint in housing and child-occupied facilities built before 1978, this may include, but is not limited to:
Residential rental property owners/managers
General contractors
Special trade contractors, including:

Painters
Plumbers
Carpenters
Electricians
What Activities Are Subject to the Lead Renovation, Repair and Painting Program?
In general, any activity that disturbs paint in pre-1978 housing and child-occupied facilities, including:
Remodeling and repair/maintenance
Electrical work
Plumbing
Painting
Carpentry
Window replacement