When looking at the before pictures compared to the after, you would never believe this was the same house, but with an upgraded design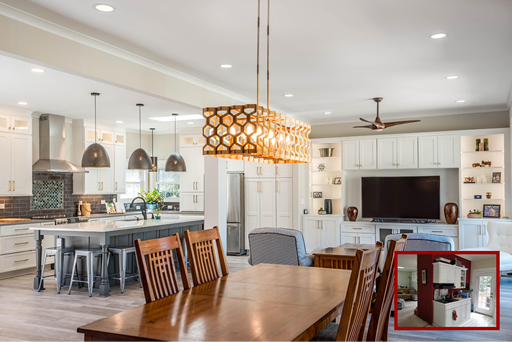 and remodel from Harbour Towne Construction the entire main living area and kitchen transformed into a space that is bright and open.
This homeowner needed a space that would be welcoming to guests, but also fit the needs of everyday life. The closed off floor plan and bright red brick fireplace wasn't working anymore.
When Harbour Towne came in we started by taking out the 26' load bearing wall and large brick fireplace to give the space an open floor plan. A support beam and column was put in its place. Demolition continued with removing all old cabinetry and flooring, which made the home feel worn out. With the new design, we were able to give this family the perfect kitchen/living room.
Per the client's request and without sacrificing the openness of the space, we cleverly added an additional guest powder room and a laundry/mudroom. Both interior doors mimic each other's 5 panel design – one faced with wood, and one with frosted glass. The laundry/mudroom includes a secondary door that had been converted from a window, allowing the family and their dogs access to the outside.
The removal of the 26' wall and the large brick fireplace gave us the ability to extend the kitchen and give the family a built-in entertainment center for their living area. A Calacatta Venice quartz topped island invites guests to enjoy both the kitchen and living room area at the same time.
Throughout the kitchen we added chalk white cabinets that reach to the ceiling, which include roll-out shelving, an appliance garage, a pull-out trash/recycle, and a microwave drawer built into the island.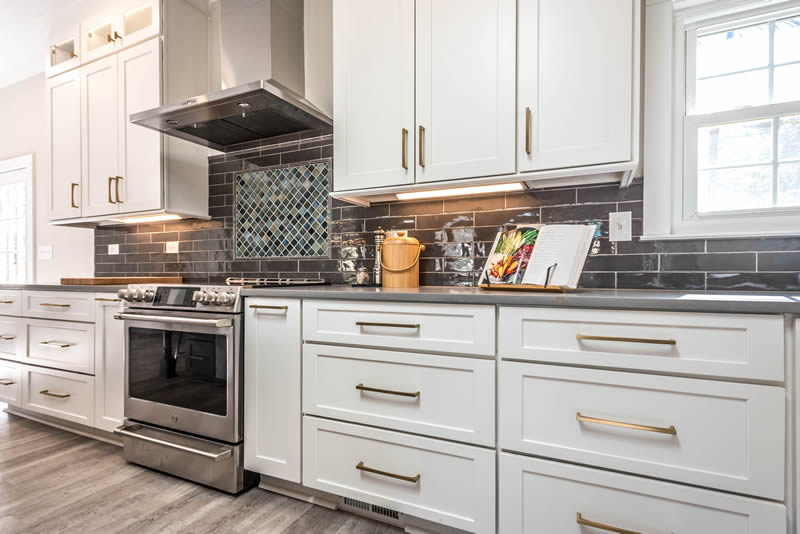 Adding to the upscale feel of this remodel a stainless steel hood and appliances can be found around the entire kitchen. To contrast the island, Caesarstone sleek concrete was placed on the perimeter countertops. This ensures the kitchen has plenty of storage and working counter space. A lazy susan in the corner cabinet and the addition of open shelving for cookbook storage add functionality to this already stunning kitchen.
Completing the renovation, Harbour Towne laid Provenza uptown chic LVT plank throughout for a seamless transition from room to room. Beautiful hanging lighting fixtures, paired with two existing skylights, and floor-to-ceiling windows illuminate the newly remodeled space for an ending product the family loves.